Festival season has officially kicked off and that means that we're mixing and matching the hottest trends of the season in an effortlessly cool way. Festivals are all about the easy and breezy party outfits, but that doesn't mean that you can't be fabulous. Stay true to your inner goddess and combine our glamorous body con bandage dresses and jumpsuits with some bohemian accessories and laidback styles.
Tips and tricks for a glamorous festival outfit
But how do you mix and match a glamorous body con bandage dress with a pair of cowboy boots? It's like mixing brownies with salt. If you don't use the right dose of ingredients, you will be a walking disaster!
But if you find the correct way of balance and styling, you have the best of both worlds!
So here are some fashion tips to become the ultimate festival style queen.
Aaliyah bandage dress with tropical print
One of the trends this Summer is definitely the tropical print. The colourful palmtrees on our Aaliyah bandage dress gives you that paradise glow. And the black band around the waist optically slims your waistline. Wear this body con bandage dress with a white, long and sleeveless knitted vest, a pair of Dr. Martins boots, and a floral headband to accentuate your colourful style. An elbow bracelet and an overdose of rings and bracelets will look awesome with this tropical bohemian outfit.
Go directly to our Aaliyah bandage dress with tropical print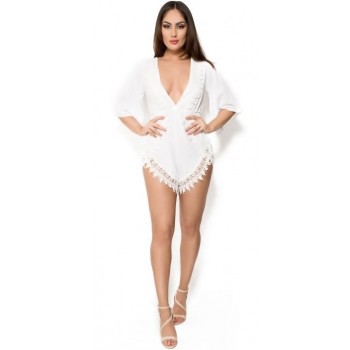 Amalia white jumpsuit with lace
Make the crowd go boom in our Amalia short jumpsuit! This sexy little number is short, stylish and fashionable with the bat style sleeves that is playfully decorated with lace. For the real die hards that can't go without a platform heel, this white jumpsuit is perfect to wear with wedges in nude colours, brown shades or white. Wear a big summer hat and big statement jewellery to finish it off. A cute fringed shoulder bag will give it a effortless boho touch.
Go directly to our Amalia white jumpsuit with fringes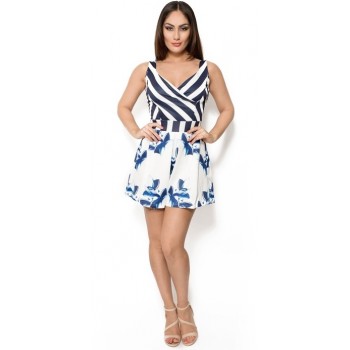 Iraida playsuit with deep v-neck and floral print
Look absolutely stunning in our Iraida playsuit. It has a cute and stylish combination of prints with the floral print and stripes, all in blue and white. The deep v-neck makes it a little bit cheeky. Wear this trendy blue and white short jumpsuit with gladiator sandals for a très fashionable twist. A headband with big flowers will complete your ultimate festival style. Cool it up with a knuckle ring on both hands, so it won't be all flowery and stuff.
Go directly to our Iraifa playsuit with floral print
Ambrosia taupe two piece bandage dress with halter top
Talk about being sexy and cool in this two piece bandage dress in a gorgeous taupe and white colour combination. The bandage crop top is a tiny halter top and has a little cut out. The pencil skirt is very elegant. Some cool platforms with a super chunky sole would look absolutely fabulous! Wear a shiny hair jewel in your hair and wear lots of rings to make a fashion statement.
Go directly to our taupe two piece bandage dress with halter top
Kimberly Aztec print maxi dress
In this gorgeous aztec printed maxi dress you don't need much to get your festival style queen- thing going on. The maxi style and aztec print makes it the perfect festival dress.
Complete your festival look with a floral crown and lots of statement jewellery. A knitted or fringed vest and a pair of open sandals will give it a very laid-back feeling.
Go directly to our Kimberly aztec print maxi dress
Be the showstopper in more of our dresses! Go to Lady Habits collection
Voor beautiful and cheap bandage dresses, go to our SALE