Black Angelica midi dress with sexy detail on the back
Now that the party season is officially over and we're still recovering from that overdose of food, Christmas presents and partying, it's time for some serious new year, new me, new wardrobe- time!
Today we're talking details, details, and a little bit more details.
How do you bring a little sparkle in a simple dress? Yes boo, with a dash of details!
Even though the season of glitz and glamour is over, a real it-girl is glitz and glamour.
And if you are one or want to become one, take a look a in our webshop and this blog about how to stay on top of the game.
Black Lace crop top Lorraine
This little black top is simply amazing! The black crop top has a stylish lace design that is made with the hand and with high quality. The gorgeous lace and turtle neck compliment your elegance. This black crop top with lace suits perfect with a high waisted pants for that ultimate power woman-look or try a classy pencil skirt for a super feminine look. Some stylish high heels and a little clutch and you are ready to leave your mark wherever you go!
Go to our Lorraine black lace crop top
Kaylee black vintage look body con dress
Our Kaylee dress is super cute and has some classic details. The little polka dots are a big wink to the old days and placed in a rather strategic place. The deep v-neck has a cute little ribbon. The fitting is perfect thanks to the strong and stretchable fabric that embody your curves. This little black dress brings Old Hollywood to a whole new level of classe.
Go to our Kaylee black body con dress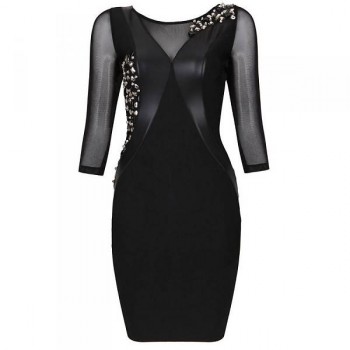 Black body con bandage dress with mesh and crystals
In this glamorous black dress you will definitely be the centre of attention. It has a classy design with elegant long sleeves and a very sexy back that is covered with black mesh. The front is mesmerising with the beautiful crystals on the side and on the shoulder. The leather detail spices things up.
Go to our black body con bandage dress with mesh and crystals
Axelle black lace dress with long sleeves and open back
Our Axelle little black dress is a dress with lots of spectacular details. Like the lace that covers the whole dress. The open back is jaw dropping with the deep opening and the beautiful jewellery.
If you want to keep it hot and simple, you can just take off the jewellery.
All you need are some hot heels and some subtle jewels like a ring and crystal button earrings to be the bombshell of the night.
Go to our Axelle black lace dress
Carmen lace dress with turtle neck
If causing a traffic jam and steeling some hearts are on your agenda, you need this sexy lace dress to help you with that. In our Carmen lace dress you are an absolute showstopper. The magnificent lace covers your hot body, and the fitting and design embraces your femininity. Put on some classy heels and wear a lovely clutch and you know that you will be fierce with the capital F!
This beautiful lace dress is also available in red and white.
If you want to see more of our collection? Go to Lady Habits collection
We also have beautiful body con dresses for a low price. Take a look at our sale dresses